New build timber frame 5 bedroom house.
The project:
Character 450m2 Canadian style wood framed new build. Finalist for LABC in 2 categories of build. Build commisioned from foundation to builders finish. Oak framed and steels. Barn style, cladded, exceptional property.
Location: Copsale road, Maplehurst.
Our solution:
Completed works without break in 6 months. Labour varied from 2 -5 individuals everyday. Focus on detail and speed. No problems in build, time-line (finished ahead of schedule), and cost.
Project timing:
starting october 2013, finished beginning of april 2014
Award winning job.
With this job we won the LABC award 2015 of regional finalist!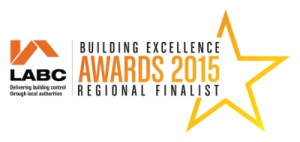 Do you also need special inner timber design? Just get in touch with us!
Location: Copsale road, Maplehurst.